Xumo is an ad-supported, no-cost app that offers the following benefits.
Over 150 free-to-stream channels. To view a complete listing of channels, see the Xumo Channel Lineup.
Free On Demand content within the app.
Accessibility to the app using other devices and online via Xumo.com.
A guide within the app that allows you to browse and choose different channels. Examples of these channels include News, TV & Movies, Sports, Entertainment, and Comedy.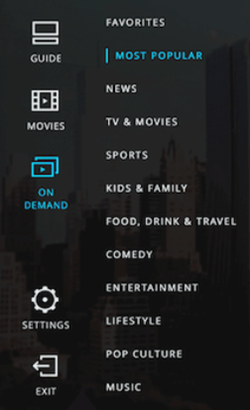 To learn how to access the app, refer to Accessing the Apps on a Contour 2 Receiver.
Access and Features
The following access and features are available with the Xumo app.
A user name and password are not required for this app.
Parental controls are available with Xumo, which are located in the app settings.
Pop-up instructions display during guide navigation.

Note: Number keypad and voice command are not available within the app.