Cox Communications offers an interactive menu for the Contour box apps. To access the app, refer to Accessing the Apps on a Contour Box.
Apps Menu
The apps menu screen contains the following categories.
Featured - Displays six of the top applications, newest releases, and promoting apps.
Entertainment - Displays every application in order of most popular.
Kids and Family - Displays applications that are kid-friendly.
Music & Podcasts - Displays music-specific applications and podcast content.
Games - Displays interactive games and trivia.
Sports - Displays content that is related to sports and the outdoors.
Daily Life - Displays Sports, Weather, Horoscopes, and Stocks.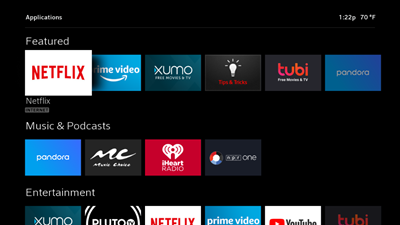 Note: In the Contour on-screen guide, content marked with the icon

counts towards your Cox service data usage. For more information, refer to Understanding Data Usage.
Available Apps
Review the table below for the available apps.


App
Description
Adventure 2 Learning
The best kids educational videos on a single platform that is safe, age-appropriate, and is vetted by educational experts.
AFV
America's Funniest Videos is America's longest-running funny video television program. The AFV Clips app offers exclusive clips, classic favorites, and montages of some of the funniest, real, videos you have ever seen.
Amazon Prime Video
Amazon Prime Video or Prime Video is a video streaming service that's included in your Amazon Prime membership. You can watch thousands of titles on Prime Video at no additional cost — including many award-winning movies and critically acclaimed original TV series.
Blippi
Come explore the wondrous world with everybody's best friend, Blippi. His contagious curiosity engages young viewers in learning adventures that help them both grow and develop.
Crackle
Owned by Chicken Soup for the Soul, Crackle provides free ad-supported movies, television shows, and original series.
DAZN
DAZN is a global over-the-top sports subscription video streaming service. The service carries live and on-demand streaming of events worldwide from various promoters as well as original programming that you may not find anywhere else.
DIY Home
Find furniture, gardening tips, recycling tips, and household hacks to make your house picture perfect.
eFit30
Train anywhere 24/7. Hundreds of free videos for Pilates, Yoga, Total Body, and Cardio workouts. Learn about dietary advice and much more.
Fawesome TV
A subscription-free app that contains a package of channels personalized to meet your interest that enables you to watch content using interactive controls. It Covers Food, Games, Style, Comedy, Entertainment, Education, Fitness, Health, and more. Customers can install as a standalone channel or group favorites together.
FilmRise
A subscription-free app that offers a large collection of free ad-supported movies and TV shows with a library of popular TV shows like the original Roseanne, 3rd Rock from the Sun, Hell's Kitchen, and Kitchen Nightmares along with a collection of live concert videos and classic albums.
FilmRise Kids
FilmRise Kids offers FREE Kids movies and TV¿including the best superheroes, cartoon classics, and kid-friendly adventures, all absolutely free.
FITE TV

Fite is focused on combat sports such as professional wrestling, mixed martial arts, and boxing events as well as concert events and other extreme sports.

It has entered partnerships with Top Rank, Golden Boy, Premier Boxing Champions, Rizin Fighting Federation, WWE, All Elite Wrestling, Impact Wrestling, Major League Wrestling, Ring of Honor, New Japan Pro-Wrestling, CyberFight, All Japan Pro Wrestling, Lucha Libre AAA Worldwide, Consejo Mundial de Lucha Libre, United Wrestling Network, and the National Wrestling Alliance to stream their content.

FITE offers free and On-Demand Pay-Per-View access.

FitYou
Free Fitness Channel with a Large collection of Expert Video Lessons on Yoga, Aerobics, Kickboxing, and others. Improve your health and fitness, burn fat and build stamina.
GymRa
Free workout app for Simpler, smarter fitness. GymRa takes the thinking out of exercise and eliminates the dreaded workout plateau.
Happy Kids
A subscription-free app that offers free and safe entertainment including education, music, movies, and activities for kids of all ages from 2 to 10.
HBO Max
HBO Max is a streaming service from HBO and that offers movies, episodes of your favorite TV series, and exclusive original content.
HSN
HSN, formerly Home Shopping Network, provides an interactive shopping experience while watching the HSN channel live
iComedy
iComedy.tv is going to make you laugh. Best collection of comedy movies, satire, spoofs, funny home videos, stunts, pranks, and jokes.
iFood
iFood.tv has over 40,000 trustworthy and practical cooking shows for all tastes. Enjoy recipes and cooking ideas for Holidays, Desserts, Drinks, Appetizers, Entrees, Kids, Indian, Italian, Thai, Gourmet, and many other foods you will love.
iHeartRadio
All-in-one digital radio service that lets you find more than 1,900 live stations or create commercial-free, all-music custom stations featuring songs from the artist you select and similar music
Kabillion
The place for your favorite animated kids' TV shows. Top shows include Transformers, Barbie, Pokemon, Oddbods, Sabrina, My Little Pony, and Thomas & Friends.
Lego
LEGO hopes to inspire and develop the builders of tomorrow. Come and join us and watch your favorite Minifigure characters come to life in exclusive webisodes and stop motion videos.
Lego Friends
Join the LEGO Friends Adventurers around their hometown as they create and imagine.
Little Baby Bum
Let Twinkle, Buster and Mia, and all of their Nursery Rhyme Friends lead you through their fun and the educational universe. They will help grow basic vocabulary, how to be a friend and how to overcome challenges.
Music Choice
Free music service that gives you access to trending songs, music videos, and exclusive artist content
NBC Sports Gold
NBC Sports Gold is a collection of over-the-top subscription streaming television services operated by NBC Sports Group.
Netflix
Streaming service that allows subscribed members to watch a wide variety of award-winning TV shows, movies, documentaries, original content, and more
NPR One
A new digital listening app that will blend NPR and Member Station news reporting into a rich, localized, on-demand experience
OddBods
Free animated content curated from across One Animation. For children ages 0-9.
Om Nom Stories
A free compilation of all Om Nom Story cartoons in one app. Dive into amazing adventures with everyone's favorite sweet tooth from the Cut the Rope game series.
Pandora
Free music and podcast app that offers up-to-date content offerings and personalized playlists
Peacock
Peacock is a streaming service from NBCUniversal that offers movies, episodes of your favorite TV series, and exclusive original content.
Play.works
PlayWorks is one of the first to understand how best to engage viewers in the Connected TV space, through games & videos. Play.works provides proprietary tech for real-time monetization and content synchronization. Their carefully curated content from partners like SSundee, Tankee, and Ninja Kidz TV inspires, engages, and calls us to play more.
Pluto TV
Free, ad-supported service that primarily distributes its content through digital linear channels designed to emulate the experience of traditional broadcast programming
Talking Tom & Friends
Follow the awesome adventures of Talking Tom and Friends. Armed with technological gear, great ideas, and an unfailing sense of humor, Talking Tom and his friends are on a mission to reach stardom at all costs.
TripSmart
Free travel shows, virtual tours, guides, tips, and more on key destinations located in the United States and around the world.
Tubi
Free, ad-supported On Demand streaming content that specializes in shows that were syndicated or older movies
Yaytoons
Exciting, magical adventures where you can battle alongside Mini Ninjas, learn about animals, and much more.
Yoga
Learn Yoga from experienced teachers, including videos on Ashtanga yoga, Acro Yoga practices, breathing techniques, Hatha Yoga, Sun Salutations, and meditation.
YouTube
Video sharing service where users can watch, like, share, comment, and upload their own videos
YouTube Kids
Service that gives kids a more contained environment that makes it simpler and more fun for them to explore on their own, and easier for parents and caregivers to guide their journey as they discover new and exciting interests along the way
XITE

XITE is the ultimate music video experience!

Like and skip videos
Discover new music and rediscover classics
Watch themed channels or select a genre, decade and style to create your own music video mix

XITE is a free app service with the option for customers to upgrade to Premium for a personalized experience and unlimited skipping for $4.99.

Xumo
Streaming-video and On Demand service that combines Internet videos into continuously running channels; each channel revolves around a particular brand or publisher, including BuzzFeed, The Young Turks, GQ, and Vice, and shows up in a program guide that users can scroll through
Zone-ify

Zone-ify is the first app service that offers artificial intelligence (AI) to capture what you like to watch and develop a channel that is just for you.

It offers twelve themed On Demand channels and one channel that is personalized to you.
It contains over 6000 hours and 50,000 titles of content.